BlueprintNYC's digital department elevates our production and training by using technology to enhance learning, capture analytics, and ensure results. With our proprietary event app, attendees experience an event that is coordinated and seamless. By integrating technology into the event space in surprising and fun ways we delight as well as deliver.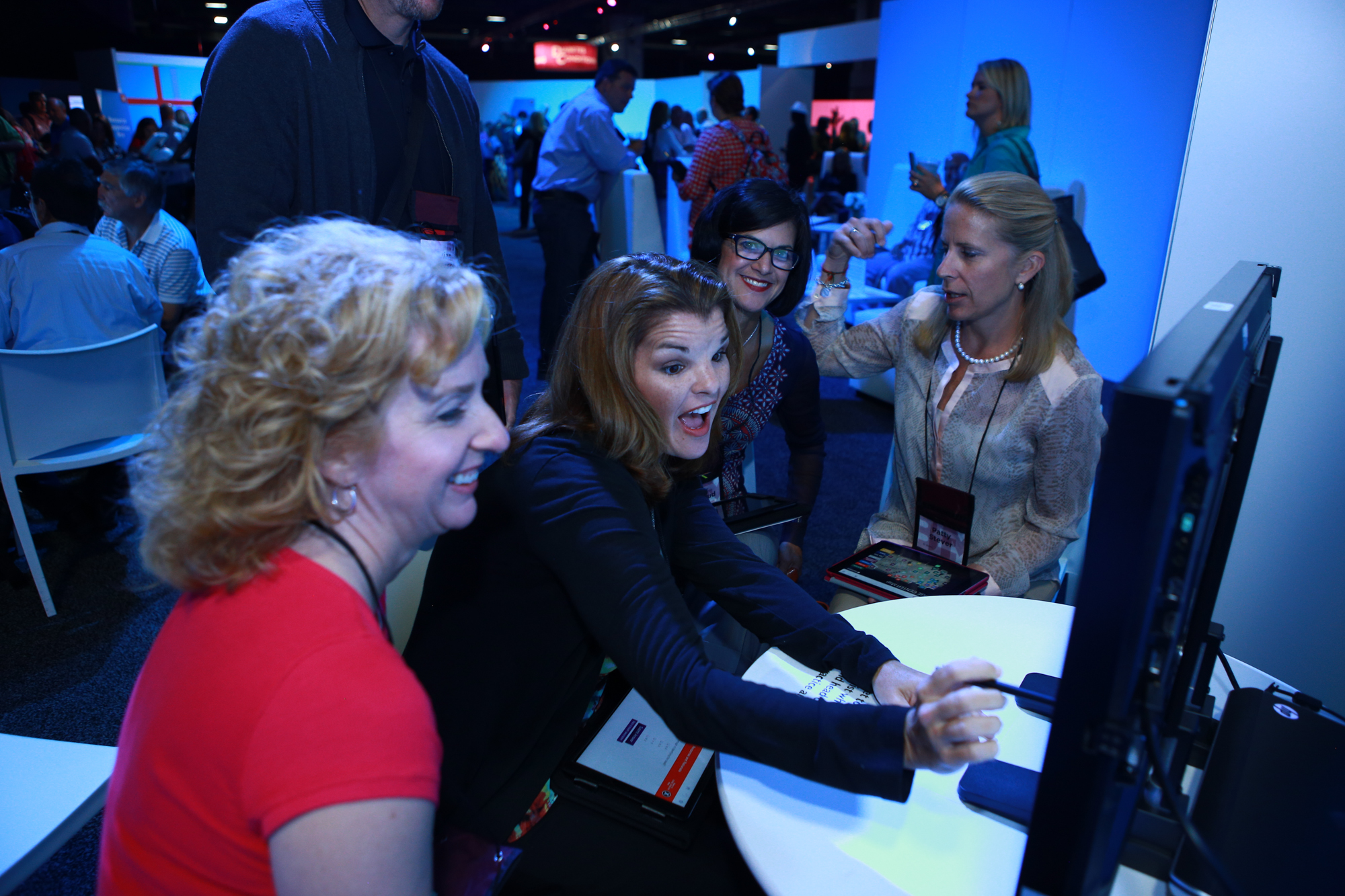 Meeting Architect, BlueprintNYC's bespoke meeting and event app, engages your audience with interactive learning, communication campaigns, and presentations, as well as personalized meeting information and agendas for each attendee.
Events are enhanced with interactive maps, instant analytics from workshop activities, and certification. Long-term communications campaigns come alive with videos, self-led learning modules, knowledge checks, and social media integration. Your sales force can be trained at local meetings with streaming or pre-recorded videos to provide centralized content while allowing attendees to interact on a national level, sharing best practices or engaging in friendly competition.
The BlueprintNYC digital team works seamlessly with our training, production, and video departments to provide a fully-integrated experience for each of your attendees.
Description
How can you consistently engage over 2,700+ people at the same time in over 40 locations? We solved this riddle by creating a centralized, talk-show studio where our Internal Broadcast streamed key speakers, core content, videos and live interviews to over 40 locations, including Puerto Rico and Hawaii. A customized digital app provided participants with access to all meeting resources, as well as opportunities to connect with each other and the main studio throughout the meeting.
ChallengES
Presenting consistent sales messaging, product knowledge and training to a large national sales force who could not travel to a central meeting destination is no small feat. Maintaining a high-level of rich engagement and knowledge retention for a week while adhering to a minimal budget really amped up the degree of difficulty.
Solutions
For the broadcast, we developed a creative, talk show-inspired format where core content was delivered consistently to all meeting sites via live interviews and pre-recorded video segments. An engaging learning program was created with application activities and humorous interstitials. All meeting materials were provided in the customized app — including assessments to be completed with programmed analytics for leadership review.
RESULTS
Despite being scattered across the country, participants felt united and connected as if they were together one space. We generated the excitement, energy and focus of a big meeting without the time and expense of travel for the entire team. The centralized broadcast (available via digital broadcast link) and meeting app provided a creative solution to ensure consistent messaging, resources and activities to the entire sales force despite challenging logistics and a limited budget.
Branded Content:
Video (live, pre-recorded)
Paperless Meeting AppAssessment/Analytics
Social Share – Chatter/Photoshare
Description
How do you create a self-directed content "catch-all" in an expo environment that actually gets peoples' attention and keeps it? Let the people play! Our custom digital Arcade presented interactive games that brought brand content to life! Our Arcade featured 4 distinct games with original concept design, unique artwork and specialized game functionality. From Whack-a-Mole-style concept reinforcement with branded visuals to having your promotional "fortune" read by a realistic video Fortune Teller, each game promoted sales force interactivity, competition and fun.
Challenges
Engaging a self-directed, savvy audience to teach, test and team build in a fun and exciting way. Developing 4 unique, interactive ways to present somewhat "dry" and varied content in a concise, captivating manner while including individual and group competition opportunities. Observing time limitations to complete games (as one part a larger meeting).
Solutions
We designed and developed 4, interactive Arcade-style games to make the key content come to life. Each game and gaming zone wascustomized to the needs of the specific content area. Competitive elements such as knowledge quizzes, completion timers and leaderboards were implemented to foster engagement and teamwork. These programmed back-end analytics tracked progress and understanding in real-time.
Results
People were entertained and impressed by the innovative approach to content, use of technology and quality of creative execution. Overall engagement was high, as evidenced by the completion rates per game, as well as population of scores on the leaderboards.

Additional modules:
• Branded Content
• Arcade-style Content Challenges
• Points awarded
• Paperless Meeting App
• Social Share